Bible Study
Are you looking for answers to life's questions?
Do you want to know what the Bible says about a certain subject or issue?
You are invited to our weekly prayer session/Bible study and our weekly Bible lesson study.
Fridays 6:30 pm:  Prayer session/Bible study
Saturdays 9:30 am: Weekly lesson study

At the New Iberia Seventh-day Adventist Church.
-------------------------------------
Click image for more helpful links:
Here are some online resources that will help in your walk with the Lord:
Bible University  - At Bible University you can study truth filled courses that are built on God's Word as the core foundation.
Amazing Facts - Christian resources, stream video and audio, and read inspiring articles and books absolutely free.
Sabbath Truth - Everything you want to know about the Sabbath.
Lifting Up Jesus  – A set of 30 lessons, with the first nine lessons about Jesus. There are free, downloadable lessons, to help guide one's personal Bible study, or full-color printouts available. The lessons are available in Spanish and a set for children (see below).
 
Bible Timeline - explore every character and major event of the Bible, from the creation of the world to last-day prophecies
Sabbath School Lesson Studies – Every week a different Bible lesson is discussed during Seventh-day Adventist Church study hours, (at 9:30 a.m.) apart from the worship hour which usually begins around 11 a.m. Visitors are always welcome and participation is voluntary.

The lesson themes change four times during a year (one quarter of the year divided into 13 weeks each). This is true for each age group of youth and children as well. You can find lesson studies for each group at the following Web sites: www.SabbathSchoolU.org (predominately for young adults) and at www.SSnet.org (includes all levels).
Resources For Kids
KidsBibleinfo.com – Provides big answers from the Bible aimed specifically at children. A safe place for kids to find Bible answers to their questions, character building stories, games and more.
KidZone – Just for kids: Games, puzzles, Bible Guides and stories have been posted at KidZone. Site is self-grading.
My Place with Jesus – A brand new interactive online Bible study series, launched by It Is Written.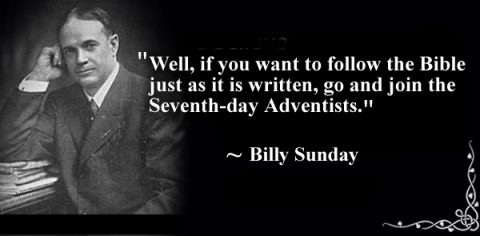 Did You Know

The famous Billy Sunday [William Ashley Sunday, 1862-1935] was an American evangelist whose 300 campaigns were attended by 100,000,000 people.

He followed the footsteps of Dwight L. Moody. He was ordained In 1903 in the Presbyterian Church. He was aided in his campaigns by the well-known composer of hymns, Homer A. Rodeheaver, who conducted the choir.

TWO of the best Bible instructors I have ever had, were converted by Billy Sunday. When one of them took her stand in his meetings to become a Christian, she went to him and said: "Mr. Sunday, what church should I join? I want to follow the Bible."

He replied: "Oh, they are all based on the Bible." She said: "Well, I know; but I want to follow the one that. . . ."
"Well," he answered, "they all—. Go and study them and they'll show you."

"No," she said, "you brought me to Jesus, and I know you know. Mr. Sunday, please tell me the one you think comes nearest to the Bible teachings."

"Well," he said, "if you want to follow the Bible just as it is written, go and join the Seventh-day
Adventists."

And she did. She became a wonderful Bible instructor. These two Billy Sunday converts became Bible instructors and helped me to win many, many hundreds of people—in fact, about two thousand—to the truth.

—From "Feed My Sheep", by H.M.S. Richards, page 400.